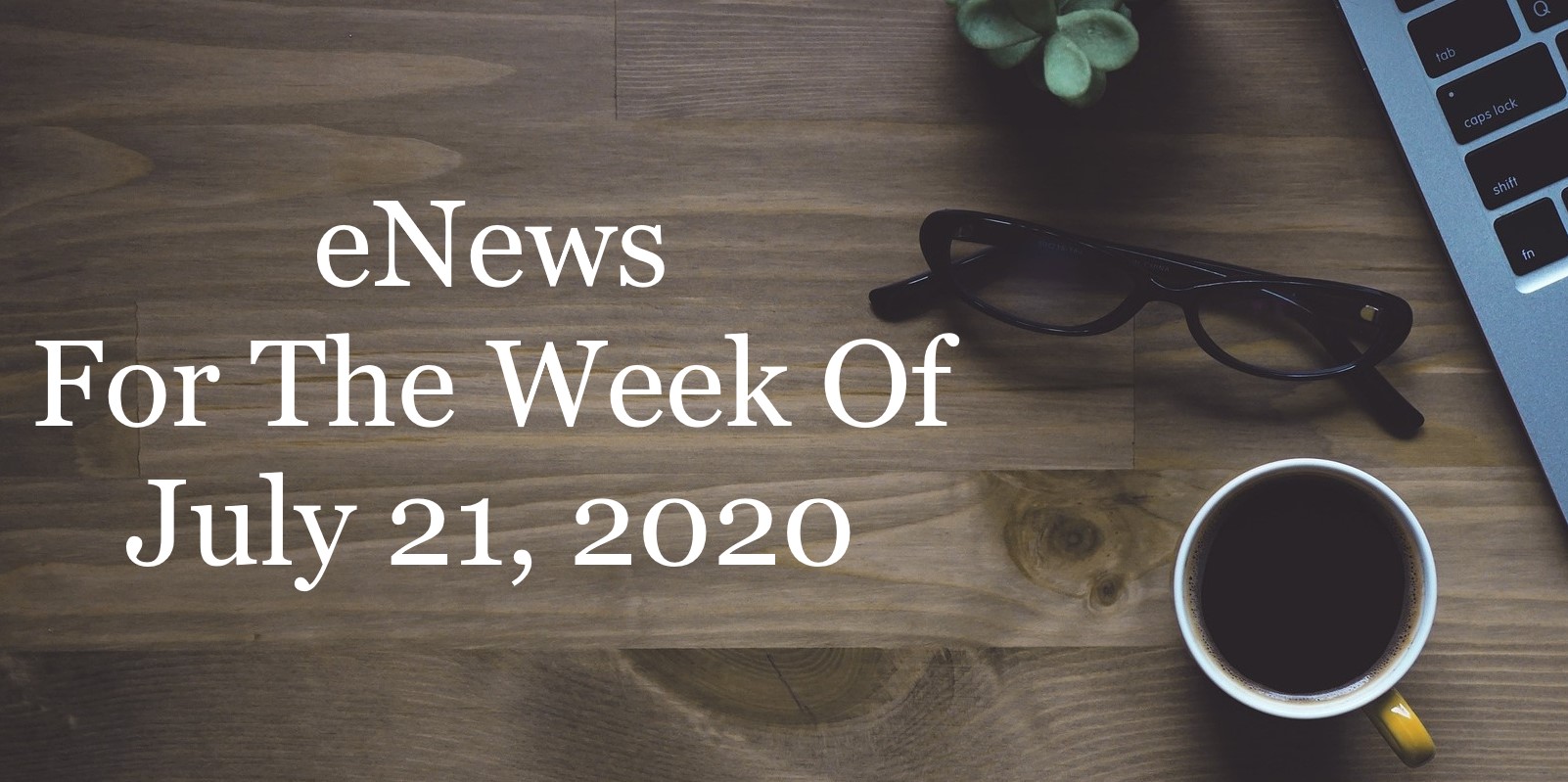 eNews For The Week Of June 21, 2020
eNews for the week of June 21, 2020
---
IMPORTANT NEWS ABOUT RE-GATHERING
FOR IN PERSON WORSHIP AT EPIPHANY:
Along with you I have greatly missed not being able to worship in person these past months and am eager for us to "re-gather" on Sunday mornings.
As you may know, the Bishop's Advisory Panel on Re-Gathering has released it's guidelines on how parishes in our Diocese may begin re-gathering for in person worship. Thank you to our own Jennifer White for serving on the panel. You can read the guidelines for yourself HERE.
On Tuesday of this week the Panel advised that the 14 day threshold for the decline in cases in the Commonwealth had been met and that the Bishop will now consider "applications" for re-gathering from congregations.
Your vestry and I are in the process of creating a sub-committee of the vestry to carefully and thoroughly detail for the Bishop how Epiphany believes that we can re-gather. Jennifer White and I will serve on the sub-committee and will be reaching out to a few non-vestry members to serve also. It will be the responsibility of this sub-committee to draft Epiphany's detailed and thorough application per the guidelines and begin the process for approval of our plan.
On our weekly clergy Zoom call with the bishop this week there seemed to be a consensus that most parishes, while eager to re-gather, do not want to rush to re-gather. A few parishes have done surveys to gauge the feeling of members about when each person feels she or he would be comfortable re-gathering in person. Based on the feedback I thought I heard, it seems that late summer/early fall may be a realistic time frame given what we now know. I too would like to do a survey and Jennifer Hooper and I are working on that now. I hope to get it out to you sometime next week.
I'm sure I will have more to say about this on Zoom Sunday morning and I highly encourage you all to attend.
Fr. Jon's Time Away in June:
Just a reminder that Fr. Jon and Drue are still out in Santa Fe spending time with their family.
His time away will likely be a combination of both vacation and working remotely from Santa Fe.
Umbrellas Needed:
If you would like to help someone less fortunate, please read on.
The Disciples Dinner and Lunch guests are in need of umbrellas. We are asking parishioners to donate new or gently used umbrellas of any size.
We noticed that there were none being used during our rainy season. If the weather is wet, our guests are waiting six feet apart in the rain. The pandemic social distancing policy creates a problem since we do not have a sheltered area large enough for our 20-40 guests for Disciples Dinners or Lunches.
Please bring umbrellas to the parish lobby anytime during office hours, Monday - Thursday between 9:00am - 2:00pm.
---
PHOTOS WANTED
We are looking for photos featuring the people of Epiphany.
These photos can be of anything, as long as the work and community of Epiphany is highlighted. We do have the capability to scan printed photos, digital photos can be submitted to
---

Missed last weeks Morning Prayer? You can watch or listen to it HERE.
Every week the Epiphany News section of our website is updated with the latest Morning Prayer. You can also watch it or re-watch previous Morning Prayer videos on our YouTube channel.
---
This Week At Epiphany
| | |
| --- | --- |
| Monday 6/22 | Evening Compline with Fr. Jon, 5:30pm via Zoom |
| Tuesday 6/23 | Contemplative Prayer with Drue, 6:30pm via Zoom |
| Wednesday 6/24 | Evening Compline with Fr. Jon, 5:30pm via Zoom |
| Friday 6/26 | Evening Compline with Fr. Jon, 5:30pm via Zoom |
| Sunday 6/28 | Morning Prayer, 10:00am via Zoom |
Details for all Zoom events can be found HERE
---
Birthdays this week: Janie Leigh Carter

Birthday Prayer
Watch over your servant(s) (Name) O Lord as their days increase; bless and guide them wherever they may be. Strengthen them when they stand; comfort them when discouraged or sorrowful; raise them up if they fall; and in their hearts may your peace which passes understanding abide all the days of their lives, through Jesus Christ our Lord. Amen.

Anniversaries this week: Helm & Leslie Dobbins

Anniversary Prayer
Gracious God, we lift up your servants (Name) And (Name). to in thanks for your love. Guide them as they grow and surround them with your grace, that they may walk close to you and to each other always; through Jesus Christ our Lord. Amen.
---
The parish office is open Monday - Thursday
from 9:00am - 2:00pm.
The parish office is CLOSED on Fridays.
Due to COVID-19, regular office hours are subject to change at any time, without notice.