eNews For The Week of February 28, 2021

eNews For The Week of February 28, 2021
---
---
Online Annual Council

This week the 129th Annual Council of the Diocese of Southern Virginia will be held virtually for the first time. One good thing about that is that many of the presentations and the business session will be available to watch online. The events will be a mix of on-demand and live events. Please see the all the details by following this link: http://www.diosova.org/congregation_res/article469158.htm
---
The next installment of Hymn Friday
*Click on the photo below to get the video. It is possible you'll need to try more than once. As I understand it you do not need to be on facebook yourself in order to see the video.
Epiphany has been blessed to be the site for concert cellist
Cameron Grimes https://www.camerongrimes.co.uk/ Hymn Friday project.

Prior to the pandemic Cameron's home was in London and he played throughout Europe. He has been staying with family here in Danville during the pandemic.
Cameron and Pei-Yi have recorded a number of pieces together and some are solos. Each week we're posting a link to one of the videos posted on Cameron's facebook page.

You may find all of the recordings on Cameron's facebook page. Enjoy! Jon+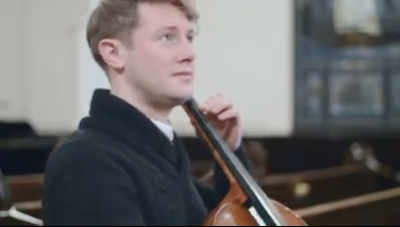 Holy Eucharist for February 21, 2021

Prerecorded Sunday services should be available to view on the parish YouTube channel beginning about 5:00pm each Saturday evening.
---
2021 Pledge Card Reminder
Your vestry is most grateful for your financial support this past year and asks that you continue to support your parish this year. Many of you have already submitted a 2021 pledge card and we thank you. If, for some reason, you have not received a pledge card, please click on the link below for a pledge card you can print out and send in. You may also contact the Church so that one may be sent to you. We realize that these are uncertain times and that includes a measure of financial uncertainty for many of us. Please do what you can to support the ministry and mission of Epiphany. Thank you all & God blesses you.
Annual Parish Meeting Delayed (A reminder)
As was recently announced, our 2021 meeting is being delayed due to the pandemic. We will schedule the meeting as soon as the Diocese again allows in-person activity. We all hope this will be very soon. Thank you.
Changes to Zoom worship "credentials" continue this week:
In order to continue to do what we can to ensure that our Sunday morning worship on Zoom is not interfered with please remember the following:
A password is now required to join Zoom worship instead of the "waiting room" feature.
Each week there will be a new Meeting ID number & password.

The weekly meeting credentials (ID# & password) will only be available via the MailChimp eNews email distribution and/or the bulletin.

If you have been "logging on" by clicking the link in the eNews email you may not notice these changes.

If you have been manually entering the details on your device or calling in on the phone you will need to adapt to these new weekly changes.
The parish office to remain closed for now
As previously announced, the Epiphany office, like many others in the Diocese, will remain closed for now. We are monitoring the positivity rate in our health district daily and will reopen the office when it is deemed safe to do so.

As has been the case, Jennifer Hooper and Fr. Jon will continue to work from home.

Pei-Yi, Kylie and Pat will continue to be on-site as needed with extra safety measures in place because their work can not be done remotely. They are also able to be in totally separate parts of the building and/or not at the same time. Pat will be cleaning only on Saturdays for now.

For now Pei-Yi, Jennifer Hooper and I will record our Sunday online service on-site one day a week while taking extra precautions. This is so we can continue to offer a Holy Communion Service* with music.
Please call or text Fr. Jon (434-710-1933) if you need more world communion cups so you can participate in Holy Communion on Sundays.

Jennifer and Fr. Jon each have their office computers at home, are working a more than full schedule and are available by phone. We are working on getting Jennifer a church cell number for this purpose.

Office Phones: The current voice over internet office phone system (which is more than 10 years old) cannot be forwarded and it is difficult to check voicemails remotely. So until further notice please call Fr. Jon directly on his mobile number (434-710-1933) and leave a detailed message. His iPhone does have the ability to forward voicemails to others. He will forward messages for Kylie and Jennifer and anyone else to them.

For now Fr. Jon will stop by the building every couple of days to collect/distribute the mail and check on the building.

As a reminder the Bishop's COVID-19 Advisory Panel stated months ago that at an 8% positivity rate it's a good idea not to gather for in-person worship. At 10% or above congregations are not permitted to gather for in-person worship at all. When the prohibition against in-person worship went into effect on December 8th that announcement also said all indoor activity was suspended until further notice, which seemed plain enough. However, the next day on a Diocesan clergy Zoom call there seemed to be some confusion about whether or not this applied to on-site office work. That confusion has been clarified.
---
Prerecorded Sunday services should be available to view on the parish
YouTube
channel beginning about 5:00pm each Saturday evening. Each Sunday morning at 10:00am this same service will be streamed via Zoom with brief "live" announcements from Fr. Jon.
---
This Week At Epiphany
Tuesday 3/2: 5:00pm Disciple's Dinner
Tuesday 3/2: 7:00pm Contemplative Prayer with Drue via Zoom
Thursday 3/4: 12:00pm Disciple's Lunch
Sunday 3/7: 10:00am Holy Eucharist via Zoom

Details for all Zoom events can be found HERE
---
Birthdays this week:
Anne Moore (28th), Kay Trakas (28th), Dillon Barnett (3rd), Mary Mondul (5th) and Patricia Williams (6th)
Birthday Prayer
Watch over your servant(s) (
Name
) O Lord as their days increase; bless and guide them wherever they may be. Strengthen them when they stand; comfort them when discouraged or sorrowful; raise them up if they fall; and in their hearts may your peace which passes understanding abide all the days of their lives, through Jesus Christ our Lord.
Amen
.
Anniversaries this week:
None
Anniversary Prayer
Gracious God, we lift up your servants (
Name
) And (
Name
). to in thanks for your love. Guide them as they grow and surround them with your grace, that they may walk close to you and to each other always; through Jesus Christ our Lord.
Amen
.
Parish Prayer List:
We are in the process of rebuilding the parish prayer list and we need your help. If you would like the name of a loved one placed on the parish prayer list and listed each week in the eNews please reply directly to this email. You may also call or text Fr. Jon at (434) 710-1933.

Lu Wilson, Betty Wilson and Danville Utilities Lineman Jesse Flack.