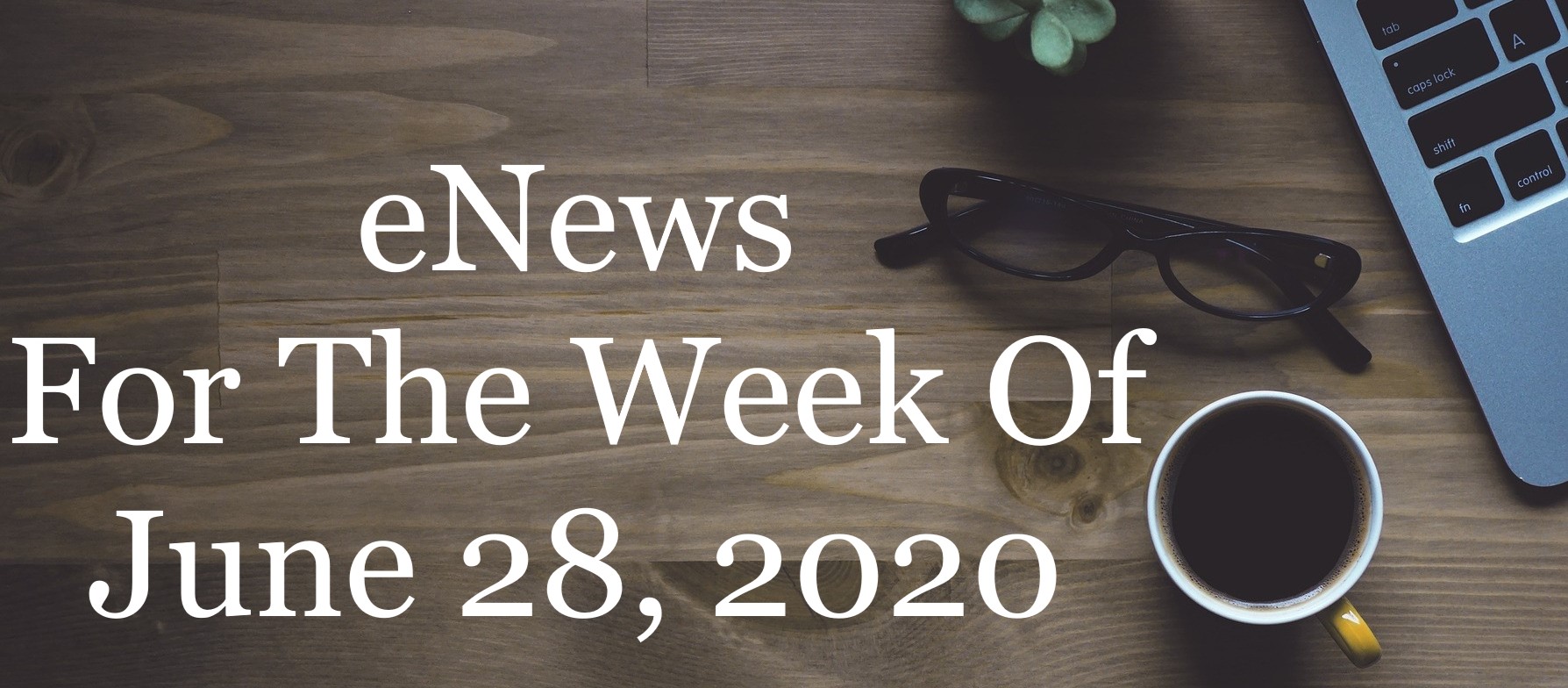 eNews For The Week of June 28, 2020

eNews
for the week of June 28, 2020
---
Another Loss In Our Parish
Drue's mother, Jane Miller, passed away suddenly but very peacefully yesterday afternoon just before I arrived to spend the night on my way back to Danville. I found her sitting in her favorite chair where she loved to spend time each afternoon - watching a movie, reading and listening to classical music on NPR. Her faithful dog Norm was by her side.
Needless to say, I will be delayed several days getting back to Danville and will do our Sunday morning Zoom Morning Prayer from here. I've been in contact with Jennifer Hooper and will be in contact with Evie Jackson, our Sr. Warden, when she returns from vacation this weekend. The daily operation of the parish continues.
May Jane's soul and the souls of all the faithful departed,
through the mercy of God, rest in peace.
God's Peace & Blessings,
Jon+
As some of you already know Jack Turner passed away Monday morning (June 22, 2020) at home in Raleigh.

Fr. Jon has been in contact with Nan Turner and their son Jack. Final arrangements are still in the works. Please know that the obituary on the Townes Funeral Home website referring to an August date are incorrect. We'll send out the final arrangements once they are set. Thank you.
May Jack's soul and the souls of all the departed,
through the mercy of God, rest in peace.
Umbrellas Needed: If you would like to help someone less fortunate, please read on. The Disciples Dinner and Lunch guests are in need of umbrellas. We are asking parishioners to donate new or gently used umbrellas of any size. We noticed that there were none being used during our rainy season. If the weather is wet, our guests are waiting six feet apart in the rain. The pandemic social distancing policy creates a problem since we do not have a sheltered area large enough for our 20-40 guests for Disciples Dinners or Lunches. Please bring umbrellas to the parish lobby anytime during office hours, Monday - Thursday between 9:00am - 2:00pm.
Photos Wanted: We are looking for photos featuring the people of Epiphany. These photos can be of anything, as long as the work and community of Epiphany is highlighted. We do have the capability to scan printed photos, digital photos can be submitted to
---
This Week At Epiphany
Please note that due to current circumstances,
Evening Complines or Contemplative Prayer for this week may be canceled.
We will try to let you know as early as possible, if this is the case.
Thank you for your patience and understanding.
Monday 6/29: Evening Compline with Fr. Jon, 5:30pm via Zoom.
Tuesday 6/30: Contemplative Prayer with Drue, 6:30pm via Zoom.
Wednesday 7/1: Evening Compline with Fr. Jon, 5:30pm via Zoom.
Friday 7/3: The office will be CLOSED in observance of Independence Day. There will NOT be an Evening Compline.
Sunday 7/5: Morning Prayer, 10:00am via Zoom.
Details for all Zoom events can be fo
und HERE
---
Birthdays this week:
Monifa Williams, and Jackie Fulop



Birthday Prayer


Watch over your servant(s) (Name) O Lord as their days increase; bless and guide them wherever they may be. Strengthen them when they stand; comfort them when discouraged or sorrowful; raise them up if they fall; and in their hearts may your peace which passes understanding abide all the days of their lives, through Jesus Christ our Lord. Amen.



Anniversaries this week:
None




Anniversary Prayer


Gracious God, we lift up your servants (Name) And (Name). to in thanks for your love. Guide them as they grow and surround them with your grace, that they may walk close to you and to each other always; through Jesus Christ our Lord. Amen.