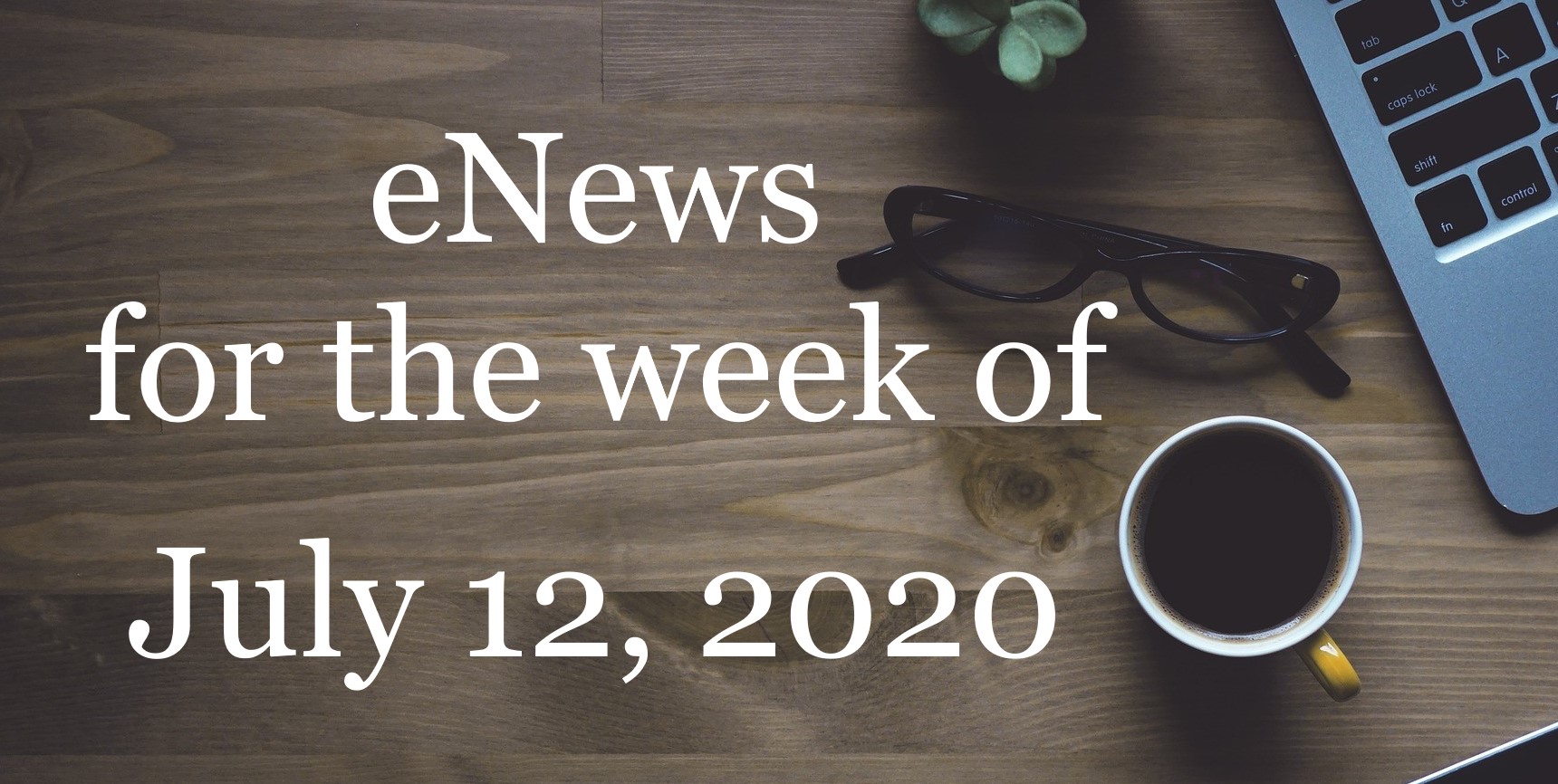 eNews For The Week of July 12, 2020

eNews
for the week of July 12, 2020
---
I believe I speak for most of us when I say that we are all interested in "re-gathering" for in-person Sunday worship as soon as we are safely able to do so. But, as I hope you will all appreciate these are unprecedented times and the process of preparing to re-gather will take some doing.
As you may know, Bishop Susan Haynes' Advisory Panel for Re-Gathering announced on June 16th that the Bishop would begin approving written re-gathering plans from congregations. The vestry and I have begun this process and will be addressing the issue at our July vestry meeting on the 13th. We hope to have our plan submitted soon. Please know that we will continue to offer a virtual worship option for Sunday morning's even after we are able to re-gather.
If you'd like to know more about the requirements and the process please go to the Diocesan website.

To read the

Diocesan

Guidelines on Re

-

Gathering for Worship, please click

HERE
Music Program Update:
As you may know, Bob Sutter is now back home. He continues to recover slowly from his medical challenges and is doing physical therapy.
However, it continues to be unclear whether or not Bob will regain enough strength and mobility to sit at Epiphany's organ bench again. In light of this possibility, the vestry and I have decided that it would be prudent to begin the search for Bob's successor. We hope to have some news to share about the search soon and will keep you posted.
Time Off:
Jennifer Hooper will be taking some time off next week. She will be out of the office Wednesday (7/15), Thursday (7/16), and will return Monday (7/20). As a result, website updates may not happen and emails/phone calls may not be answered right away. If you do need to speak with Fr. Jon, please call his cell phone (434) 710-1933.
---
Monday 7/13: Evening Compline with Fr. Jon, 5:30pm via Zoom.
Tuesday 7/14: Contemplative Prayer with Drue, 6:30pm via Zoom.
Wednesday 7/15: Evening Compline with Fr. Jon, 5:30pm via Zoom.
Friday 7/17: Evening Compline with Fr. Jon, 5:30pm via Zoom.
Sunday 7/19: Morning Prayer, 10:00am via Zoom.
Details for all Zoom events can be fo
und HERE
---
Birthdays this week: Katy Jones, Henrietta Abercrombie,
Brooke Mondul, and Nina Wright.

Birthday Prayer
Watch over your servant(s) (Name) O Lord as their days increase; bless and guide them wherever they may be. Strengthen them when they stand; comfort them when discouraged or sorrowful; raise them up if they fall; and in their hearts may your peace which passes understanding abide all the days of their lives, through Jesus Christ our Lord. Amen.

Anniversaries this week: Ken & Suzanne Miller

Anniversary Prayer
Gracious God, we lift up your servants (Name) And (Name). to in thanks for your love. Guide them as they grow and surround them with your grace, that they may walk close to you and to each other always; through Jesus Christ our Lord. Amen.