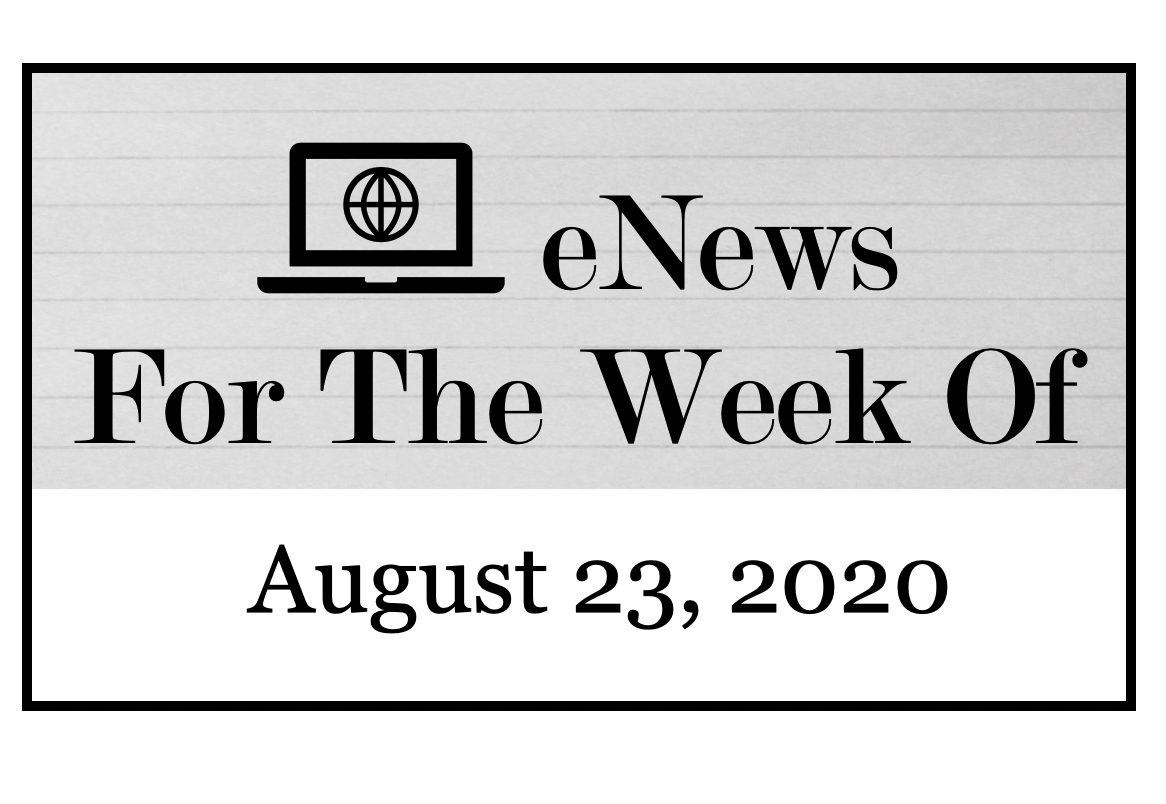 eNews For The Week of August 23, 2020

eNews
for the week of August 23, 2020
---
Morning Prayer Bulletin for August 23, 2020
Re-Gathering Update:
We continue to plan for and work toward re-gathering for in person worship as soon as we can safely do that. It looks like a realistic target date for Epiphany to re-gather is
October 4th
. Of course this assumes that the COVID-19 virus doesn't get worse between now and then.
October 4th dovetails with the leading responses on the survey. First choice was early fall and second choice was late fall, both by a significant margin. We will continue to meet on Zoom on Sundays for Morning Prayer until that time.
It is important to point out and/or remember that one of the key components of re-gathering is to continue to provide an online option for those who won't be able to join us when we do re-gather. At Epiphany we are committed to doing that simultaneously with re-gathering for in person worship. It will be challenging to provide a streaming option from the church, much more so than the Zoom offerings we've had thus far. If you are willing to be actively involved in helping make this happen please be in touch with Fr. Jon.
Parish Oral History Project:
As Fr. Jon has been saying for a few weeks now he would like to begin a parish oral history project and is looking for a few beta testers to help get things started. The platform we will use is the StoryCorp Connect web based platform. If you have a device that connects to the internet that has speakers, camera and a microphone you can be a Guinea Pig for the project. Fr. Jon is looking for 3 to 5 folks to volunteer to go first. Please contact him directly at
---
Fr. Jon Away:
Fr. Jon will be away on vacation
beginning Monday, August 31st
and returning
September 23rd
or 24th. There will be Zoom Sunday Morning Prayer each week but not Compline those weeks. A decision about Tuesday Centering Prayer will be announced next week.
Contemplative Prayer: A reminder that Contemplative Prayer with Drue, now begins at 7:00pm EST on Tuesday nights.
Friday Compline:
T
here will be no more Friday Evening Complines. Monday & Wednesday Evening Complines via Zoom will continue.
Forward Day by Day: Daily devotional books for August/September/October are now available in the parish lobby. Stop by anytime Monday - Thursday from 9:00am - 4:00pm to pick up your copy.
Zoom: As a few of you have experienced, sometimes it can be difficult to get onto the Zoom call on Sunday morning's. Here are some ideas that may help.
* Try logging-in early using the link in the email we send each week. This will give you some time to "troubleshoot" if there are issues. The 5 minutes or so before we begin has been a time when folks like to say hello to one another and chat a bit. Join Us!

* If using the email link doesn't work the first time, try closing your Zoom app or browser and then trying the link again.

* If neither of these work try manually typing in the Meeting ID # into your browser or the Zoom app. Sometimes this will work.

As I'm sure we all know technology can be frustrating at times and sometimes that's when we most want it to work.
This Week At Epiphany
| | |
| --- | --- |
| Monday 8/24 | Evening Compline with Fr. Jon, 5:30pm via Zoom. |
| Tuesday 8/25 | Contemplative Prayer with Drue, 7:00pm via Zoom. |
| Wednesday 8/26 | Evening Compline with Fr. Jon, 5:30pm via Zoom. |
| Sunday 8/30 | Morning Prayer, 10:00am via Zoom. |
Details for all Zoom events can be found HERE
---
Birthdays this week: Jackson Adcock, Jacob McDaniel, Nan Turner and Katie Holley Petrick.
Birthday Prayer
Watch over your servant(s) (Name) O Lord as their days increase; bless and guide them wherever they may be. Strengthen them when they stand; comfort them when discouraged or sorrowful; raise them up if they fall; and in their hearts may your peace which passes understanding abide all the days of their lives, through Jesus Christ our Lord. Amen.
Anniversaries this week: None

Anniversary Prayer
Gracious God, we lift up your servants (Name) And (Name). to in thanks for your love. Guide them as they grow and surround them with your grace, that they may walk close to you and to each other always; through Jesus Christ our Lord. Amen.